I am accepted to the university! :)
I will study Computer Science at Eötvös Loránd University in Budapest.
Today 20.13 I recieved an SMS stating that I have enough points so I can start the course!! :)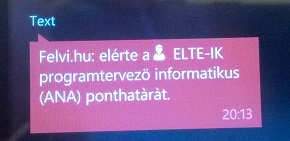 It is gonna be a big change, because I do not live in the capital. First I will have to move there. We have already found a little flat where I can live with my 2 friends. Also, it is very close to the campus. :) We are planning to move on August 15.
I have already visited the campus many times, so it will not couse any problems. In fact, I am afraid of new people in a way, that I know almost nobody there, also I wouldn't like to take part on the freshman camp. I have never like these kind of camps, although I know that would be a great place to make friends.
Forgetting about these a little bit, I am very happy now!
2015.07.23.